For many, it's just a natural phenomenon, for us, it means advancing the energy transition.
We consider each offshore project as a closed life cycle that ranges from feasibility studies to planning and construction of the facilities, to cold and hot commissioning of the wind farm and feeding the generated energy into the grid. Upon request, we also take on the direct marketing of the electricity and, at the end of the wind farm's life, the complete dismantling of the facilities.
What sets us apart from other companies is our holistic approach. We not only take care of every small technical detail in each phase but also have an expert eye for the big picture. Our comprehensive expertise, risk-taking mentality, and deep understanding of sustainability and environmental compatibility make us a reliable partner for the construction of technologically complex facilities in challenging locations.
Our services
We take care of your project.

We see ourselves as a coordinator, catalyst, consultant, realizer and supervisor – as well as communicator, interface manager, troubleshooter, optimizer, and reliable anchor during the entire process. We look forward to discussing what roles your specific project needs and how to realize all desired goals as quickly and efficiently as possible.

OUR SERVICES:

Feasibility studies
Profitability calculation / Interface management / Permitting process
Design Basis
Logistic Concepts
Tender preparation
Installation concepts
O&M concepts
IT/SCADA concepts
Technical specification / Package management / Project management
Documentation

From the planning phase – to start-up

We consider ourselves as a highly specialized and integrated competence center. With our extensive know-how, we're able to take on the responsibility of fully realizing your project. And that within the framework of set goals, time tables, costs, and quality expectations. What's more, our services have a high degree of scalability and are thus perfectly tailored to fit all your needs. In a nutshell: everything!

OUR SERVICES:

Optimization of existing concepts
Coordination of the internal
project team, all suppliers, engineer offices, and trades
Continual contact issuer reporting
Planning control and adaption implementation (when necessary)
Safety control on-site
Production supervision
Construction supervision
HSE support
Supplier audits
Documentation
Acceptance tests
Hot / Cold commissioning
Steel construction
Feasibility studies
Root cause analysis
Technical optimization
Risk assessments
Training programs
Solution engineering

Hands-on

It may sound simple, but in reality, it's a very effective formula: our expert teams are there to continually guarantee that your off- shore substation is running as smoothly as possible. For the turbines, we either bring in a tried and tested subcontractor into our network, or coordinate with your chosen service provider, for example the manufacturers of the wind turbines. You decide which offer is best for you.

OUR SERVICES:

Operational control of the offshore wind farm via our central control room
Coordination of all service, repair and manufacturer teams
Permanent performance optimization on all technical and operative levels
Marine coordination
Offshore control center
Permit to work system
Remote switching operations
Grid management
24/7 standby teams
Substation maintenance services / Performance management
Optimization
HSE management
Real-time and monthly reporting

Introduce and improve your Safety Culture Ladder

Do you wish to enhance the safety culture of your organisation? Our team of experts are on hand to guide you through the Safety Culture Ladder – an effective approach implemented by all employees and managers. The Safety Culture Ladder offers practical solutions for your company, which are already implemented on a day-to-day by our team with visible results.

OUR SERVICES:

Introduction to the Safety Culture Ladder
Assessment of the safety culture to assess the status quo, determination of potential for improvement and development of appropriate measures
Development of tailored solutions to improve your safety culture
Support in the implementation of measures
Implementation of training courses, courses and workshops for employees and managers on all aspects of behavioral occupational safety and the topic of safety culture
Support preparation for certification
Support in the further development of your existing Safety Culture Ladder certification to achieve a higher level

HSE services

At Omexom Offshore, the health and safety of our employees, clients and subcontractors is fundamental to us; this is why we have implemented the ISO 45001 to enable continuous improvement of occupational safety – with a certified HSE management system and SCL Step 3.

Our HSE management team consists of 7 experienced and fully trained occupational safety specialists who support and advise our customers on all occupational safety issues relating to the planning, construction and operation of an offshore wind farm.

OUR SERVICES:

HSE management for the planning, construction and operation of offshore wind farms
HSE consulting and expert work
Documented pre-/accident investigations
Creation and review of HSE manuals
HSE emergency and rescue plans
Risk assessments and analysis including effectiveness checks
Review of planned work processes
Occupational health and safety legal work on protection and safety concepts
Planning and implementation of drills and rescue exercises
Safety-related inspections/inspections of offshore facilities and structures including documentation
Documented occupational health and safety audits at suppliers and manufacturers

IT services

Omexom Offshore's IT team takes care of the 24/7 operation of a number of servers and virtual systems used to monitor our customers' offshore wind farms. Our teams are formed of highly qualified specialists for project planning, 2nd level support, adaptation and expansion of SCADA systems, automation technology, network topology and offshore-specific maritime systems as well as all questions regarding certifications according to "IT-Grundschutz" (BSI), ISO 27001 and KRITIS.

OUR SERVICES:

Operation of virtualization servers, virtual machines, conventional servers, workstations, switches, firewall clusters and 24/7 support for all systems in-house
Project planning, 2nd level support, adaptation and expansion of complete SCADA systems, processing of all interface issues, configuration of the data points and creation of the necessary representations, grid connection rules, expansion and improvement of the operational management software as well as operation and optimization of the control of wind farms including 24/7-support
Technical support regarding SCADA systems, automation technology, network topology, offshore-specific maritime systems and radio systems, support in the selection of suitable systems and tendering procedures and assessment of existing infrastructure
Testing of own and customer-owned systems according to "IT-Grundschutz" (BSI), ISO 27001 and KRITIS, security-relevant interfaces when introducing new software, verification of vulnerabilities reported via the BSI and reporting of security-relevant facts to management. Accompanying certifications with respect to the "IT-Grundschutz" (BSI), ISO 27001 and KRITIS.
As a company, we specialize in the implementation of offshore wind projects and offer a variety of services to successfully execute these projects from start to finish. We support our clients in conducting feasibility studies to evaluate the feasibility of offshore wind projects and minimize risks.
Our expertise in wind park planning encompasses a variety of aspects such as site analysis, selection of suitable wind turbines, and compliance with environmental regulations. We ensure that all plans adhere to the highest industry standards.
We assist you in the construction of your facility, including the assembly, installation and testing of systems. Our technicians are qualified and experienced to ensure that the construction of the plant runs smoothly and is completed within the specified time frame.
Additionally, we also offer cold and hot commissioning services to ensure that the turbines can be brought into operation and operate smoothly. We also support our customers in feeding energy into the power grid and ensure compliance with all regulations and requirements.
Overall, we offer a comprehensive package of services to ensure that offshore wind projects can be operated successfully and reliably. Our experience and expertise have made us a trusted partner for our customers.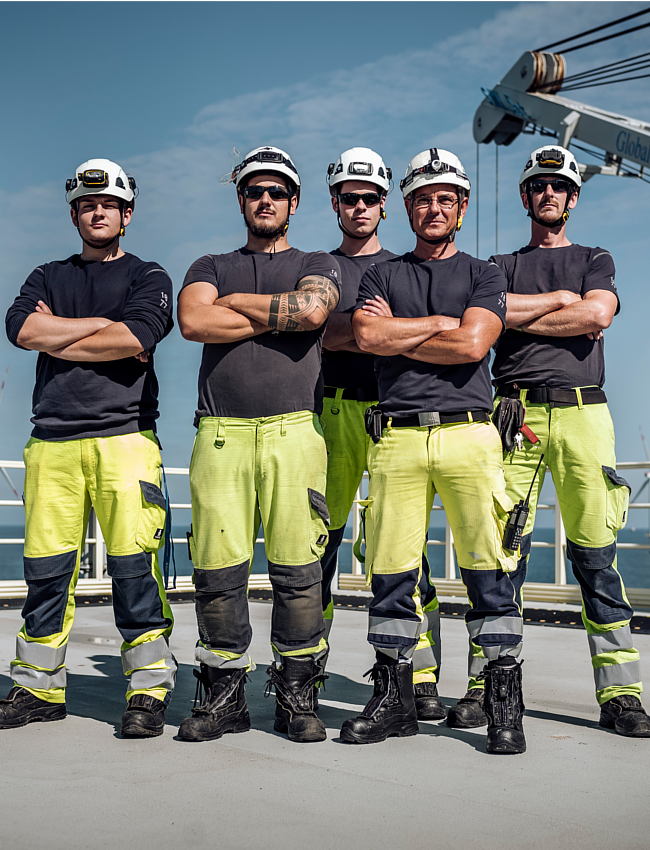 Give us the green light, and we'll take care of the rest.
What makes working with us different is that we not only take care of each little technical detail at every phase, but also have an expert eye for the picture as a whole. This not only means extensive expertise, but also the ability to take risks, a deep understanding of sustainability, and environmental compatibility. After all, at the end of the day it's about installing technologically complex plants in inhospitable locations. What's more, the plant has to generate energy for many years and under the hardest of conditions. Additionally, it must be economical and operate problem-free 24/7. We can't offer you anything more than this, but also nothing less.